ABB has introduced its first premium modular range of wiring accessories that incorporate wired and wireless building automation systems.
Manufactured in India for India, the innovative switches offer a range of functionalities, from basic switching to controlling, comfort and energy savings. This makes it ideal for use in commercial and hotel sectors.
The IVIE light switch range also provides additional functionality when integrated with ABB-free@home® home automation system, transforming residential buildings into smart homes.
Commenting on the launch, CP Vyas, Head of Electrification Products, ABB India, said "When creating our new IVIE range, our ambition was to combine stylish design with smarter functionality that would enhance hotel, commercial or residential buildings and improve energy efficiency."
With the installer in mind, IVIE uses a grid system that allows the integration of a combination of colors and products of different dimensions and functionalities, together with ABB-free@home® sensors, making it easier to install.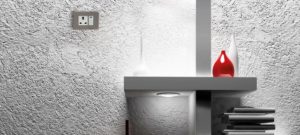 Combining strong performance with stylish design, IVIE is available in a range of modern finishes, from white, silver or anthracite to personalized color options. Aesthetics are further enhanced with the use of a convex profile plate with a sleek design, making it a perfect match for any architecture. The dust free surface also adds to the quality, while giving a contemporary look.
The double shrouded internal mechanism under the rocker prevents visibility of sparks, and it is available with a wide variety of sockets, equipped with shutters for added safety. The series is also compatible with 6/16A two pin plugs and offers a universal regulator with 360-degree rotation.