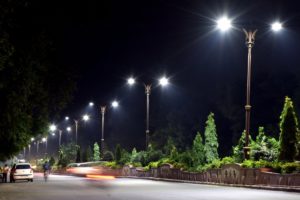 Power ministry PSU Energy Efficiency Services Ltd (EESL) has signed an agreement with Greater Hyderabad Municipal Corporation (GHMC) to retrofit a staggering 4.5 lakh street lights with LED lamps, under the Street Lighting National Project (SLNP). This, according to a release by EESL, is the biggest LED street lighting project in the world.  EESL has retrofitted 2.7 lakh street lights for South Delhi Municipal Corporation that is currently the biggest project under the SLNP.
The cost of the GHMC street lighting project is around Rs.270 crore that will be fully borne by EESL. The municipal corporation will pay back the cost through deemed savings, over a period of seven years. GHMC is expected to save 200 million kwh of electricity per year through the switch to LED street lighting.
Currently, GHMC has 3.5 lakh street lighting poles, a number that will be enhanced to 4.5 lakh ensuring 33 lighting poles per km. GHMC presently incurs an annual expenditure of Rs.210 crore on operating and maintaining the current conventional lighting system. EESL has assured the Telangana civic body that it would save 50 per cent on its current costs, through the LED switchover. Over the seven-year period, GHMC is expected to save over Rs.1,200 crore.
The Street Lighting National Programme, launched by Prime Minister Narendra Modi on January 5, 2015, aims at converting 1.34 crore conventional street lights with energy-efficient LED lights. The current achievement stands at around 26 lakh.